KNUANI-한국 애니메이션의 젊은 힘 20년
Balance between Independent and mainstream animation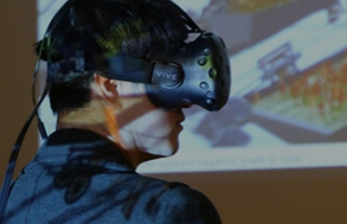 Feature of educational programs
Feature of educational programs are consist of strict rule for entry, based on a screening and presentation centered curriculum. Cooperate education is our aim and purpose. This established with the creative contents, media convergence, Global network.
Applicant need to be prepared for drawing, narrative and directing skills together. We finalize the new students with performance tests (drawing), portfolio presentation, Interviewing. Competitive rate maintained 35:1 every year and selected students could get high motivation and pride. The achievement and knowhow of seniors ignited the new students. Talent and skills of new student are getting better in every year.
Every students have to complete 4 animated film in a whole academic course.
Of course, in first year, they started with spot animation and test shot in a course work. From second year(semester three), students must create international standard animation work. Some students get a prize at the International animation Festival on their year 2 or 3 before their graduation. They present their "work in progress" 4 times every year in front of every professors and whole students in KNUA animation dept. In the progress of animation production, there are many cooperation between the students of schools in Knua (Film and multimedia, dance, drama, Music and visual arts).
Goal of Education
한예종은 한 순간 형성되어 인생을 결정 짓는 학과 성적이 아닌 학생 개개인의 내면에 잠재된 재능과 자발적 노력의 가치를 믿는 학교입니다. 애니메이션학과도 단지 그림만 잘 그리는 학생을 선호하는 것은 아닙니다. 본격적인 예술과 기술의 융합이 시작되는 스마트 미디어 시대에 새롭게 변하고 있는 애니메이션의 의미와 가치를 스스로의 지성적 각성을 통하여 찾아내고 미래를 준비하는 학생을 기다리는 것입니다.
the Department aims to cultivate outstanding professionals in the 21century animation art who will overcome korea's situational limitations in printed cartoons and cell animation and put original contents and software in the ever-changing theatrical or multimedia environment and the new technological circumstances. Methodologically, the Department seek new methods of recreating programs in forms of film and multimedia.
---
Focus of education
While acquiring the basics of practical multimedia production through diversified practice sessions, students are also educated in the basics of filmic aesthetics through theoretic leaning in contemporary culture and communication. Centering around the four core course of drawing, story-writing, sound and computer graphics. the curriculum offers expansion of practice and theory in majoring subjects, each course conducting intensive stage-by-stage training and benchmarking sessions to instill a sense of the real scene.
Future plan
We reinforce the curriculum that centered on the annual screening and presentation. In contents-more creativity, In media-more convergence, In method-we expand the Global network. For this, we invite the International experts and professionals and accept more international Student with exchange program.