Faculty
°û¿µÁø/Kwak Young Jin

1994 <Wish>, 35mm, Color, Cell Animation, 4min -2nd Seoul short film festival competition
1997 <Potato and Cuttlefish>,beta,Color, 2D animation, 2'56"-Tehran animation festival screenplay
2000 <The Story of moon rabbit> ,beta, Color, 2D animation, 5'30"

2002 <Play with me?> , beta, Color, 2D animation, 7'30"
2004 <My brother>, beta, Color, 2D animation, 8min
-Cartoons on the bay Showcase screenplay
-Japan TBS <Digicon6> competition

2005 sex education animation <Children's castle> Director/EBS
-Ansi Festival Educationnal, scientific or industrial film award

2006Animation for the hearing-impaired children <Nutcracker>Director/EBS

2007 Missing children protection campagne promotional film <robot kio> Director/EBS
±èÇöÁÖ/Kim Hyun Joo

Seoul University College of Business Administration Kookmin University Department of visual communication desig Korea national university of arts department of animation M.F.A
Short Animation
"a pillow baby" 11min 2003 -director
"Umbrella&a mudfish" 4min 2003 -director
"Whiteseal" 11min 2005 -director
Tv Animation
"Whiteseal" 13min x 13 EBS
Sdudio Hollhory Corp Main Director
ÇÑÈñâ/Han Hee Chang

Education: 1992-1994 Dept. of Cartoon and Animation, Kongju National College 2000-2005 Dept. of Animation, Korea National University of Arts Employment: 1997-1998 Enter Graphics (Assistant Manager) 1999-2001 CARTOON PARK (Manager) 2005 to date DOOLYNARA Inc. (Producer) Awards: 1996 SICAF1996 short animation section - ¡®paper airplane¡¯ Silver prize (Director) 1996 SICAF1996 character design section - ¡®12 gods¡¯ Silver prize (Designer - co work) 2003 SBA short animation creative support system - ¡®The Simulator¡¯ Supported (Director) 2009 43rd Annual WorldFest-Houston International Film Festival - ¡®The Little Dinosaur Dooly¡¯ BRONZE REMI (Producer)



°û±âÇõ/Kwak Ki Hyuck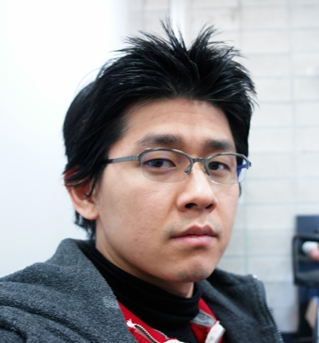 Experienced traditional animation director
Graduate from Dept. of Animation K'ARTS BFA
Illustration expert
Animation director of 'SSiRum'


È«¿¬½Ä/Hong Yeon Sik

Yeon-sik Hong was born in 1971. He began apprenticing in a comics studio in 1990, and wrote his first short comics stories in 1992, but commercial projects kept him from his personal work for another decade. He is the cartoonist of Uncomfortably, Happily which is published by Ego comme-X in France and in North America by D&Q. Madang¡¯s Table received the ¡°Manhwa Today¡± Award in 2015 and will be translated by several languages. Yeon-sik Hong and his partner live on the outskirts of Seoul.

Àָ̾²/Lee Ae Rim

Education - Korea national university of arts department of animation (B.F.A) Korea national university of arts department of animation (M.F.A) Work - Director of "The Flesh and Bone" / Animation Director of "Preordained Tie" / Animation Directed a Trailer of 'I'll be seeing her" / Documentary Art Director & Animator of "Whispering Corridors 3: Wishing Stairs" / Movie Animator of "The Ghost Theater" / Movie Animator of "Seo Tae Ji Music" / Music Video Producer of "If You Were Me2 : Anima Vision" / Animation 'short story ' / comic book Exhibitions - Amy Lee Solo Exhibition_ HWAL HWAL, Insa Art Center, Seoul Impera et Divide, Second Street Gallery, Charlottesville, U.S.A Divide et Impera, Amadora Gallery, Amadora, Portugal Digital Sense & Sensation, Gallery Pillo, Seoul, Korea Dynamic Kong Kong, Gallery Urim, Seoul, Korea The 9th Seoul Print Art Fair, Seoul Arts Center, Seoul, Korea The 30th Angouleme FIBD Festival international, Angouleme, France