International Co-Work 2010
2010 Animation Producing project
Animation Departments of Korea National University of Arts and Tokyo University ofArts are launching a collaborative animation producing project for 10 days, starting december 9th. Our students will gather in K-Arts studio go through foreign co-work of 10 days long. Only to burst out their potential, interacting " in a way harmonious, still somewhat discordant".Completed animation will be presented in SIGRAPH Asia2010 SEOUL.It is the very initial association between two leading institution throughout the Asia, hence, we proudly recommend you to take a look for yourself.

Project details
purpose
Tokyo Geidai is organizing a international exchange program over asian countries especially focused on Japan, China and Korea, with a 3-year-plan beginning 2010. This co-work is also a part of the program, managed by Tokyo Geidai Dept. of anim-ation, associating graduate schools of Animation in China and Korea. For the begin-ning year, we planned to collaborate with K-Arts, an institution stands firmly at the zenith of art education in Korea. It is also on the table to join other institutions of China next year.

Achievement and Goal
The idea is, to make a one minute animation per each group, 8 minutes in total. Co-llaboration all over production process will not only strengthen network bond betw-een universities, but also widen international view of every members.
Tokyo Geidai and K'Arts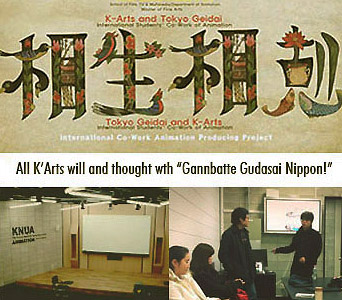 CO-WORKERS
Korea National University of Arts/Tokyo University of Arts Supervising Professor

Prof. Park Se Hyung
(K-Arts School of Film, TV and Multimedia Dept. of Animation)

Prof. Lee Jung Min
(K-Arts School of Film, TV and Multimedia Dept. of Animation)

Prof. Mitsuko Okamoto
(Tokyo Geidai Graduate School of Film and New Media)


Interpreter&Coordinator

Kim Joon Yang
(K-Arts faculty),

Hiromitsu Murakami
(Tokyo Geidai Graduate School of Film and New Media Assistant Professor)


PRODUCTION PLAN
12/9(THU)-Participants arrival, Group session
12/10(FRI)- Production design, presentation in group2/11(SAT)-Production
12/12(SUN)-Production
12/13(MON)-Screening, Elaboration
12/14(TUE)-Sound mixing, Final editing
12/15(WED)-Presentation & Exhibition in SIGRAPH Asia


SIGRAPH Asia 2010 SEOUL
Products will be shown in SIGRAPH Asia 2010, via screening & presentation includ-ing making films.