Hong Kong SIGGRAPH ASIA 2013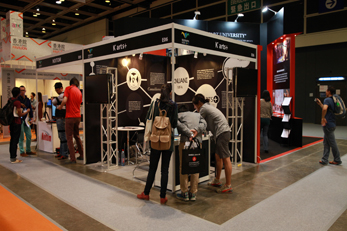 K'ARTS booth : in SIGGRAPH Asia 2013 Hong Kong

SIGGRAPH ASIA 2013's host city is a sophisticated fusion of East and West; a city of diversity where new and old meets at every turn. It is a unique experience shaped by a distinctive past and dreams of the future; an age-old synthesis of cultures and traditions that opens a window into what will be, while embracing what has passed. Join the celebrations come November 2013 when SIGGRAPH Asia returns to Hong Kong! Maps & Weather How to Get to Hong Kong Convention and Exhibition Center Weather Guide Leisure Tips for Conventions' and Exhibitions' Visitors Discover Hong Kong present,

한국 예술종합학교 애니메이션과 전문사과정 학생들의 부스가 시그래프 아시아 홍콩 2013. 11.18-23에 만들어 졌습니다 잘 알려진 바와 같이 이 행사는 예술과 과학의 융합과 그 가능성을 위한 광범위한 모색의 창입니다./홍콩 국제 컨벤션 센터





Course director professor Lee Jung Min comment about this events "we make a booth for our creativity and talents and also held a educational session foe international collaboration of making animation.. its really successful..." 학과장 이정민교수는 부스 설치와 교육 세션에 한중일 국제 애니메이션 공동 제작 프로그램을 소개하고 모든 과정이 성공적으로 진행되었다고 말했다.